Come and support your favorite middle or high school cheer squad on Sat. Dec. 3, 2016. Cheerleaders will compete and raise funds for athletics and Onslow County Christmas Cheer.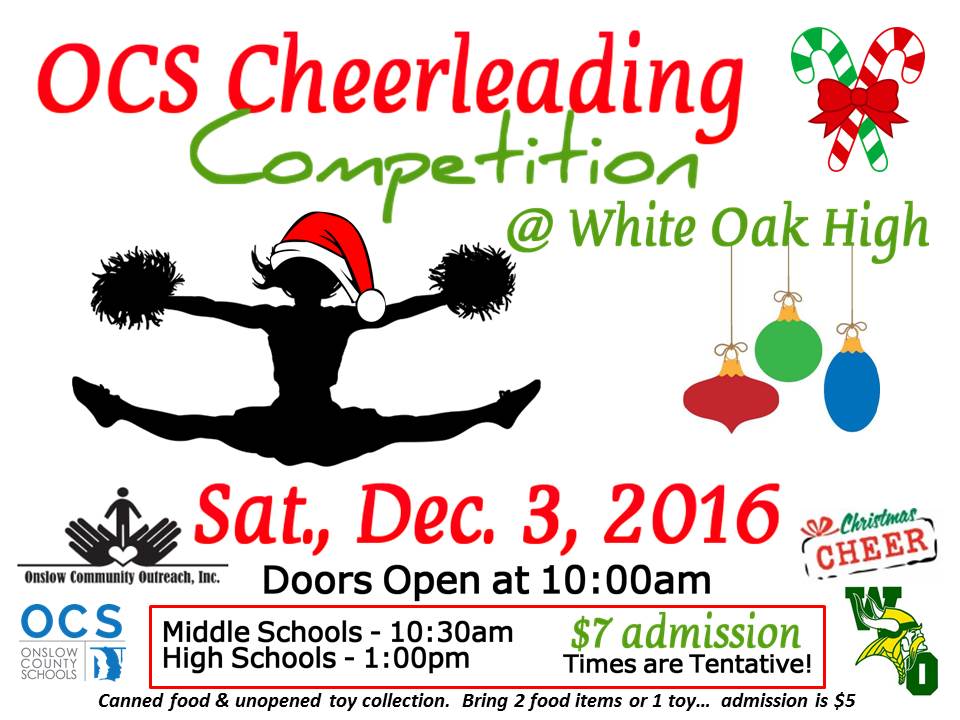 Check in for all squads will be in the ETPAC lobby.

Doors will open at 10:00 am for spectators (contingent on warm up completion).

Cost is $7…NO booster passes

There is a food drive and toy drive that will be going on in the front lobby. Please encourage families, friends, and squads to bring unopened, unwrapped toys and any canned goods!

Those that enter with 2 canned goods or 1 unwrapped children's toy will only have to pay $5 for entry.

Re-entry will ONLY be allowed with stamp given at ticket table.

Middle school portion will begin tentatively at 10:30 am.

High school portion will begin tentatively at 1 pm with JV routines first then Varsity routines to follow.

Competition to start with JV at 1 pm.

High school coaches (JV and Varsity) will need to meet at 10:30 am in the media center for meeting.

Warm ups for JV to begin at 10:45. Varsity will begin at 11:20.